Using D.Doc
Instructions on how to use D.Doc
The Search section of the D.Doc Open Educational Resource (OER) provides the following snapshot of doctoral activity in 2022 and 2023:
Search - Institutions (173)
Interactive map indicating location of doctoral activity with colour coding according to intensity of distribution
Search by institution name to identify location
Drop-down menu to select characteristics of doctoral study either individually or as permutations to display institution(s) delivering these on map:

Country
Credit-bearing training
Track record in practice-based research
Title of degree awarded
Requirement for journal publication
Fill-time duration (years)
Teaching, Educational Model
Distance Learning
Proposer of topic
Subject specialities
Language of instruction
Language of thesis or final submission
Collaboration opportunities

A – Z list of institutions (18 pages) with summary of key characteristics, map, link to institution and, for 34 of these, link to case study video and PDF of Impact Case Study and/or Research through Design Case Study
Search - Case Studies


(20 Impact, 14 Research through Design)
Search keywords appearing in case study titles
Drop-down menu to search case study type – Impact Case Study or Research through Design Case Study
Title of case study with link to abstract, author, type of doctorate, year of completion with additional link to PDF summary and video interview with researcher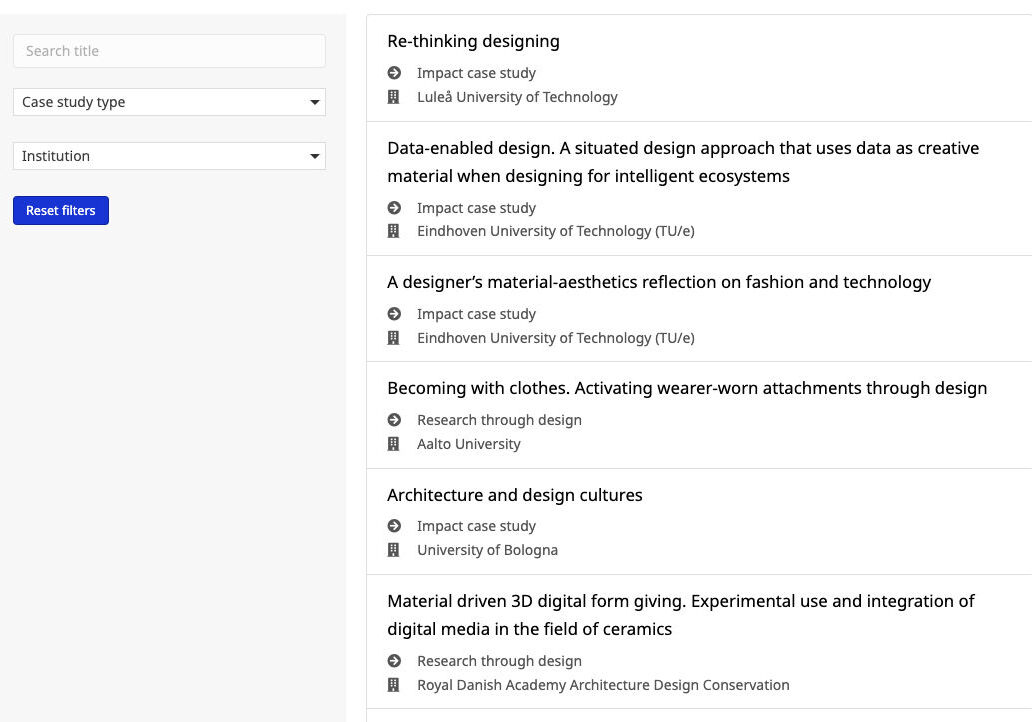 Search - On-going Doctorates


up to 01/06/23 (943)
Search keywords appearing in case study title
Drop-down menu for institutions where study taking place
Title of study, institution and start date
Every effort has been made to ensure the accuracy of information in D.Doc. The nature of data collection has relied on 2022/2023 online information provided by institutions; attempts to confirm its accuracy by direct contact with the institutions; and contribution of additional content by staff. As a snapshot limited by a defined period of funding, it will not be possible to update D.Doc.